Post by Digestive Biscuit on Sept 8, 2019 16:59:31 GMT
MikeM:



OK, I've got a new one.

Out of the blue this year, it seems that the "Woo" chant has caught on at baseball games. I only yesterday learned about the origin of this — apparently it has something to do with professional wrestler Ric Flair.

Setting aside the thought that anyone on the face of the planet could take professional wrestling seriously or invest a moment's thought in it in the first place, I'm astounded that large numbers of people could think they were somehow being cool by repeating this bit ad nauseum at a public event. I don't want to know such a person — my overall faith in humanity is damaged enough as it is.

On a practical level, it really pisses me off. My Cleveland Indians were involved in a very tense game last night, with more than a little on the line, and here you had hordes of a-holes piping up with this inane chant, over and over again. It was almost enough to make me wish The Indians would lose, and that's saying something. But it would be a just reward for these idiots.

I don't know what I would do if I were physically present at a game and someone nearby started with this crap. I've been to several games and heard it, but it never originated with any "fans" near me. I would hard-pressed to not get in such a person's face. I'm there to watch a baseball game, not to listen to someone with the maturity of a third-grader chirping from his seat. It was bad enough putting up with this while just watching the game on TV last night.
noname74:

You sound fun to be around.
MikeM:

I detect a note of sarcasm in your post.

This cuts me to the quick. I would consider it a great favor, since you're apparently the voice of experience, if you would share with me some personal tips on how I might become a more "fun" kind of guy.

I'm eager to learn — so tell me, what should my first steps be?
Ginger Ale:

MikeM:

weekendtoy:

While I don't watch or follow wrestling these days, I did enjoy wrestling many years ago starting from the Jimmy 'Superfly' Snuka era to the Ric 'The Nature Boy' Flair era. I don't think anyone ever took it seriously, but it was a great source of entertainment in my teens and 20's. Sometimes things can just be fun and silly.
noname74:

I consulted with the other 'fun' people and unfortunately we are going to have to pass on your application to join us. Feel free to re-apply in the future as positions do open up from time to time.

Until then...Feel The WOOOOOOOOOOOO!!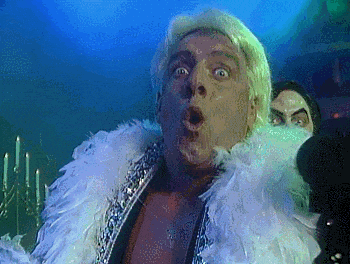 MikeM:

I didn't ask to "join" anyone, and forgive me if I have no interest in joining with people who like professional wrestling.

If your entire prescription for me becoming a fun kind of guy consists of this, then I've apparently asked the wrong person.

And in all seriousness, if you're the kind of person who would go to a baseball game and do this repeatedly, then you too deserve the a-hole designation. But I have a feeling you would wear that designation proudly.
niname74:

Once again...you sound like the least fun person ever...or the most boring. Go with whichever looks best on your business card.
MikeM:

Well, grasshopper, since apparently your notion of "fun" is wrapped up in Ric Flair and other clowns like him, I'm very confident in saying I've had more fun in any one year of my life than you've had in all of yours put together.

But please…go right on imagining that you're insulting me if it makes you feel better about yourself. I'm getting a kick out of it.
Finch Platte:

Ned Bode:

You don't seem to be having much fun at the ballpark.
MikeM:

I have loads of fun at the ballpark. But boorish behavior in any setting has a way of impeding others' fun somewhat.

I'm not sure why this is so hard to understand. You know the expression "Your right to swing your fist stops at my nose"? It's the same thing here. Any time you do something in public, you ought to consider not just your own feelings, but those of everyone around you.

I'm at the stadium (or watching on TV) for the purposes of seeing a baseball game. I didn't go there to hear a bunch of yelping yahoos crowing at random intervals.

Do that all you want in the wrestling arena with other like-minded yahoos. But stop and consider that maybe others in attendance at the ballpark aren't so like-minded, and find a less obnoxious means of self-expression.



forums.stevehoffman.tv/threads/what-grinds-your-gears.307067/page-337#post-22064105